Big tits at school presents: Big titted student fucks her teacher to clear her late fees
Scene Title: Late fees
Storyline: Abbey Brooks goes to see Mr. Dera to talk about her student fees situation. All she wants is to get him not to charge her the late fees. So she's gonna offer him a payment method he won't be able to refuse...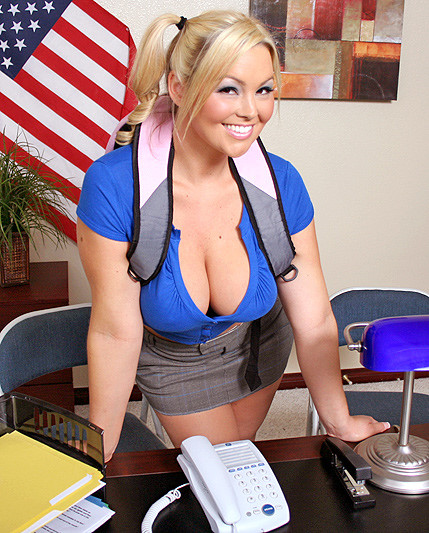 Big Tits At School Abbey Brooks HD Video Trailer
What people are saying about: Abbey Brooks - Late fees bigtitsatschool episode
Comment #1
wampa11969z said: Abbey is absolutely beautiful! I love all of her curves and overall enthusiasm! This site definitely needs move Abbey Brooks scenes!
Comment #2
jacobie said: I can"t believe the ratings on this - It's one of the best vids at this site. Abbey is gorgeous, stacked, NATURAL, HOT, and is just great FUN to watch, Dera plays the dweeby administrator in such a campy style he's almost painful to watch to start with. After they get into it, Abbey inspires him so much that the hilarious one-liners just roll out of him. Abbey matches him with some great lines too. More, please, more!
Comment #3
4977b said: This bigtitsatschool scene would have been perfect EXCEPT for Charles Dera's stupid Glasses. The glasses ruined it for me. DO the entire update again and lose Charles' idiotic glasses.
Comment #4
brjbarry1 said: I love this Girl. Just the right body, a bit chunky. And great tits. And young. She's so pretty I am surprised I have not seen more of her. I've searched everywhere. I'd like to know more about her. She is a man's dream.
Comment #5
MissSnoogans! said: apoidea: His name is Charles. BUFFDADDYDX: We all know you love thick chicks(Abbey & Olivia). So you should be happy with todays updates. I still think you are a chubby chaser. ;) The bathtub scene really made me wet. Her boobs looked really great. I do agree he needs to shut the fuck up. He went on and on. The shit wasn't that damn funny to begin with. I loved the top Abbey was wearing. Some of the angles weren't the best. He sounded like Michael Jackson(when he turned into the werewolf in Thriller) when he came. Whats that all about? Snoogans!
Abbey Brooks Picture Gallery