Big tits at school presents: Claudia Valentine fucks her old student for old time sakes
Scene Title: Round two
Storyline: Miss Valentine got visited by a former student. He asked her why she would pick on his little brother all the time, suspecting that had something to do with them having sex the night of the graduation party. And he was right because all Miss Valentine wanted was to have sex with him one more time...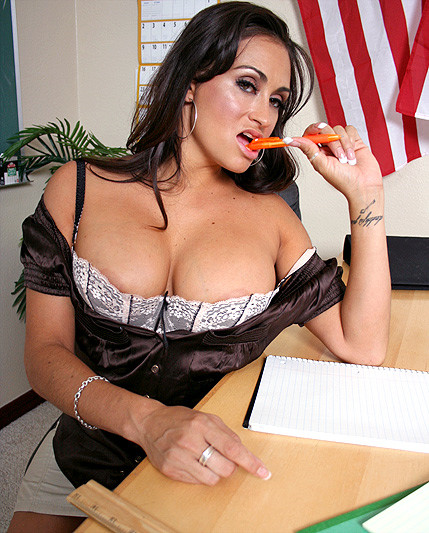 Big Tits At School Claudia Valentine HD Video Trailer
What people are saying about: Claudia Valentine - Round two bigtitsatschool episode
Comment #1
funkdoc said: I like the beginning how she got changed, would love to see more of that, although she doesn't have much of an ass. Her acting was damn atrocious, some of the worst I've ever seen. She sounded like a 3rd grader in a school play, trying to recite every memorized word verbatim. Barry is a funny looking cat, kinda like a cartoon. Nonetheless, she has a pretty little cunt and Barry fucked her well, so it was decent overall.
Comment #2
robb20 said: Although MaryJane went easy on her acting, I'm not going to. It looked as if she were reading her lines off a monitor behind the camera. The guy is just weird in all of hist scenes, don't like him. The chemistry between the two wasn't there either. The sex was like a Sheila Marie scene, dull and boring. I don't think Claudia is that greta looking, but still average looking. I liked her scene with Chloe much better, and I hope to see more of Chloe. This scene was just lacking too much to get a high rating. 6/10
Comment #3
MissSnoogans! said: Well I will be the hater today. I still don't like Claudia. She has the ugliest mouth. From the weird shape to all those fillings too. I won't be harsh on her acting cause most of the bitches can't act anyway. The sex was actually good once he got hard. Snoogans!
Comment #4
Afrone said: Claudia V makes me CUM!-more of this sexii young lady!!!
Comment #5
francisco5291 said: More please, that woman is just so damn sexy.
Claudia Valentine Picture Gallery