Big tits at school presents: Busty Chicks caught in a catfight then fucked hard by big dicked teacher
Scene Title: After School Cat Fight!
Storyline: Halia and Carmen got into this sexy cat fight over a guy they both like at school. It got a bit rough and clothes start ripping off but then Mr.Ash brakes them up and brings them in his office where he threatens to suspend them if they don't comply with his 'policy' for sluts...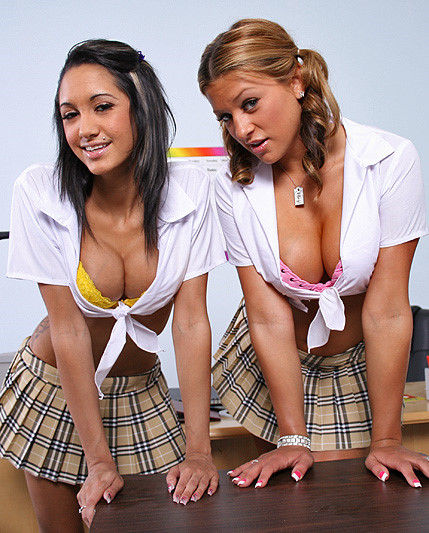 Big Tits At School Halia Hill and Carmen McCarthy HD Video Trailer
What people are saying about: Halia Hill and Carmen McCarthy - After School Cat Fight! bigtitsatschool episode
Comment #1
Mende97 said: halia is hot as fuck! love that lip piercing, and those tatts - even though i'm not much of an ink fan, on halia, it looks great. body sooo tight, love it!
Comment #2
BiV_aka_funkdoc said: Carmen really needs more solo scenes on here. She is one of the best going right now, damn. What makes her great, especially in a MFF scene is how she plays with herslef while the other girl gets dicked, instead of standing there like a lump like a lot of girls do. Love the setup and Jordan was great. Just wish they were more reluctant to go ahead with it. While I'd totally lay the hammer to her, I'm not really feeling Halia, but then again most girls pale in comparison to next to Carmen. I agree, the vocals were off the yelzebar, sounded like a murder was taking place, lol. More Carmen, MF scenes plzzzz
Comment #3
Worldcrusher2 said: This one was really cool. It would have been perfect if the positions had been changed up a little bit. The girls weren't used to best effect stacked up on the desk - they didn't seem all that into each other and not having either of them eat pussy left them a lot of leeway to just kind of make sexfaces and wait for it to be over with. Jordan didn't seem able to get at them very well. It could have gone one of two ways to make it better - 1) Make the girls work each other over. Have one sit on the other's face in missionary, and the ol' tried and true doggy+cunninglingus combo would have been good, too. 2) If they're not into each other that much (willing to kiss and lick a nipple here and there but not much else) that's fine - have them both focused on the guy. One riding dick while the other licks balls, one spreading the other one's ass while she takes it from the back, one jerking the guy's cock off into the other one's various orifices...all would have been good. That being said, it was still a great bigtitsatschool video. I thought the coercion aspect was great ('I really don't want to do this'...suuuuure ya don't). I also liked the uniforms, the way the girls were kind of bitchy with each other at the beginning, and the way they were asking for a facial at the end. I'm giving it a ten out of ten, because the stuff I mentioned up top is really just nitpicking. Great bigtitsatschool scene.
Comment #4
robb201 said: I submitted this scenario to you guys through that email form you had in the members area (before you came out with the Brazzers Forum). Glad to see it was used, but it wasn't executed as good as it should have been. First off, I never saw a schoolyard fight where they rip each others clothes off. You gotta be realistic. The fight could have looked more realistic. Jordan was alright in his role, but although the girls seemed to enjoy the sex, he didn't appear to fuck as good as he could have. I was kind of disappointed with the girls you picked for it because I liked my selection better, but Carmen did a decent job, although some of her facial expressions were 'out of character' for this scene. I was not impressed with Halia Hill's previous scene, so I didn't like the fact that she was in this scene until I watched it. Her chemistry with Carmen really made me see her differently. This was by far her best scene yet, but I think Carmen stole the show a little bit. Overall a decent scene. 8/10.
Comment #5
MissSnoogans! said: I'm glad they didn't take that catfight serious. You couldn't keep the grin off of Carmen's face. As sloppy as it was, I couldn't help but laugh. Since I have o listen to the scenes on headphones. I lost almost all my hearing today because of Halia and Carmen. These chicks were squalling like crazy. I actually didn't think this bigtitsatschool scene was gonna be any good. I was so wrong cause Jordan manhandled them. Is Halia scared of cum? Carmen damn sure wasn't the way she went after his cock. Snoogans!
Halia Hill and Carmen McCarthy Picture Gallery