Big tits at school presents: Busty teacher gets rammed by student
Scene Title: You Have Zero Dick Control!
Storyline: Lezley Zen is a wonderful gym teacher but today she has to replace Mr. Sizelmen because he has a bad case of herpes. Unfortunately Lezley is going to have to teach the students about sex. Something she holds so dear to her little heart. After the class laughs at her drawings, Keiran finds it appropriate to ridiculous Mrs. Zen even more than is tolerable. When the bell rings, Mrs. Zen holds Keiran behind to put him to the test to see how much dick control he really has. She pulls all the stop and all the rabbits out of a hat for this one folks. Join in to see how long Keirans little sperms can wait before exploding into a new world.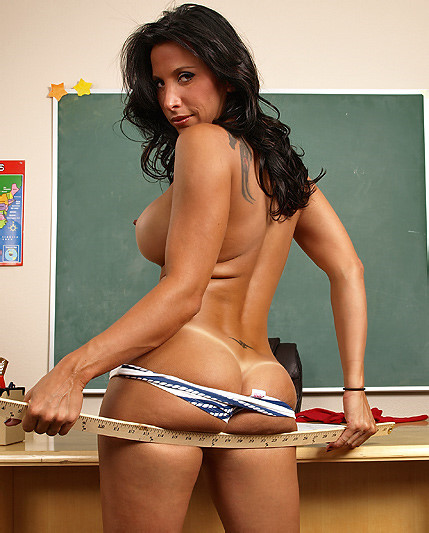 Big Tits At School Lezley Zen HD Video Trailer
What people are saying about: Lezley Zen - You Have Zero Dick Control! bigtitsatschool episode
Comment #1
bfar66 said: Lezlie is without a doubt the best M.I.L.F. porn star. She and Keiran have great chemistry but I disagree with his comment stating that this is their hottest scene. "Conference Room Scuffle" is a better i.m.o.
Comment #2
mlo8252 said: This scene was hot, the only problem I had with it was the way she went crazy slapping herself with his dick. That was a little overboard for me.
Comment #3
Don_Tomas said: Great bigtitsatschool scene except for the very short, but hot as hell, rev cowgirl. I wanted more, much more of Lezley's terrific tits front view in action. Other than that no complaints. I'd like to see Lezley again and real soon!
Comment #4
MissSnoogans said: Ahh I like a good funny story that's right on point. Sometimes after seeing people fuck so many times, it's gets somewhat old. Well Lezley Zen and whoever she is matched up with seems to bring the pain. She has no problem choking down his long cock. The doggy was sick with it. Then they pulled off some crazy shit on the side of the desk. You best believe the cowgirl was where it was at. She started by power squatting all up on that long shaft. She was grinding on his cock and had one long fucking orgasm. She was out of breath and needed to spoon after that action went down. They were both sweating like crazy and they should have been. One helluva show you two. Snoogans!
Comment #5
BigL said: Let me start, by saying Lezley looks great here, and K did his thing, the scene however falls short somehow, I don't know, but the camera work was terrible, I felt like I was watching this on a boat, and the angles were in the wrong place. The Key positions, were Miss, reverse cowgirl, that was just about it though, she does a great job giving head, we know that, the camera, and bad pop shot, gives this 8 out of 10!
Lezley Zen Picture Gallery