Big tits at school presents: Nikki Benz gets cheated on and fucks her teacher as revenge
Scene Title: Freshmen Suck
Storyline: Nikki Benz was pretty upset to catch her boyfriend getting head from a freshman chick in an alleyway. But she knew who to confide in , Professor Blow.He knows how to handle situations like this and you can see it. Within minutes she was fucking him like she always wanted it. Well Nikki's boyfriend walked in on them, but hey, what do they say about bad karma?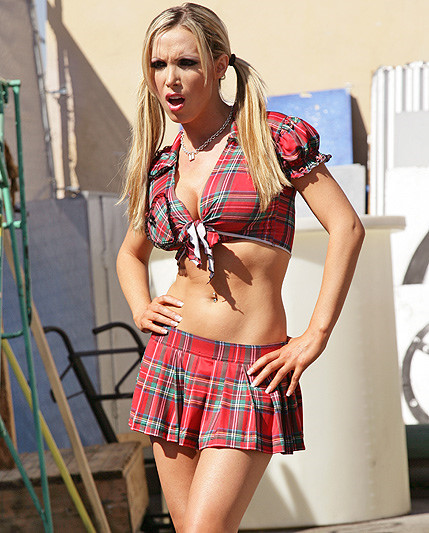 Big Tits At School Nikki Benz HD Video Trailer
What people are saying about: Nikki Benz - Freshmen Suck bigtitsatschool episode
Comment #1
AfrOne said: Loved the scene! Nikki looked extremely hot, and Joe didn't try my patience. Again damn, Nikki really looked hot - that "school-girl's outfit" with knee-highs and stilettos - never a bad look. Also, seeing Niki with her skirt flipped up and gettin'-it standing doggie-style against the blackboard is always a plus....
Comment #2
funkdoc said: another great bigtitsatschool scene by Joe Blow and Nikki Benz, they work really well together. The dude cast as the bf was funny, and did anyone notice what he was erasng from the board? lol. I agree with Gino; too much of the "closeups" of the dick and pussy. Need to see more of the full body angles. The stockings left on was also hot. Good bigtitsatschool scene
Comment #3
Gino said: Nikki never disappoints! The knee high stockings and shoes were hot, and she kept them on during the ENTIRE scene, just the way I like it!!! The guy in the bigtitsatschool scene is perfect for the teacher/principal roles and he would be great for father roles in BGB scenes. A lot of the scene was filmed too close. I would have liked more of the filming to be done further away, so I could see more of Nikki head to toe, and get a full look at her sexy legs!
Comment #4
MissSnoogans! said: This shit was sloppy made but actually very funny. Nikki and Joe had good times shooting this. They like each other from previous scenes. The sex wasn't all that hot. Nikki looked fabulous as always. Good video to watch for good laughs. Snoogans!
Comment #5
robb201 said: I love Nikki Benz, it's always good to see her in scenes. This however, needed some work. The editing, as many have said already, sucked. The line you can hear getting called out off camera is so obvious, it should have never been missed. The whole "fight" looked so lame, because it was so obvious that it was scripted. The sex was pretty good, both Nikki and Joe did a good job. Decent, but not her best by any means. 8/10
Nikki Benz Picture Gallery