Big tits at school presents: Miss Rayne gets fucked hard by a thick cock
Scene Title: Poor Little Johnny Boy
Storyline: It's Valentine's Day in Brazzerville and everyone got Valentine's Day mail except for Johnny... He'll be the laughing stock of the class when Mrs. Rayne finds out he's writing himself a card!! She'll have to offer her tits to Johnny to ask for forgiveness!!!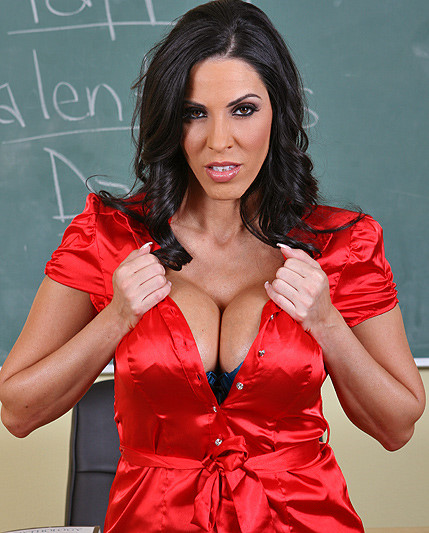 Big Tits At School Veronica Rayne HD Video Trailer
What people are saying about: Veronica Rayne - Poor Little Johnny Boy bigtitsatschool episode
Comment #1
speed0383 said: Veronica if you're reading this and if it means anything... I bought Brazzers membership after watching you in a clip of this scence. You are an awesome woman.
Comment #2
Jack66 said: Veronica saying "Happy Valentine's Day!" in POV titty fuck just made my day! Thanks Brazzers!
Comment #3
robertomalone said: A good story - OK, it's basically the lucky schoolboy gets to fuck his sexy teacher over her desk scenario, again, but I'm pretty sure there are many of us who will never get tired af that. Johnny is as reliable as always, and Veronica is any man's hot fantasy teacher - loved the outfit, and the slutty fishnets were a wicked touch, by the way.
Comment #4
BiV_aka_funkdoc said: I thought the story was pretty good and original. I just didn't like how Veronica was like "wtf are you doing?!" then 5 seconds later she's saying "help me take my clothes off." Shouldn't have shot him down in the 1st place. The sex couldn't NOT be good with these 2, but my fave was the 1st missionary using the desk/chair combo. Solid bigtitsatschool scene.
Comment #5
Donald5 said: I very much enjoyed this bigtitsatschool video with Veronica Rayne, she is a sexy good looking gal ! I enjoy where she is bent over so that her breasts hang down and swing, they look good as the implants bounce and jiggle around. The only thing i could have hoped for was the always favorite pile driver position as that position really gives us a good look at how a girl's implants look and move :)
Veronica Rayne Picture Gallery